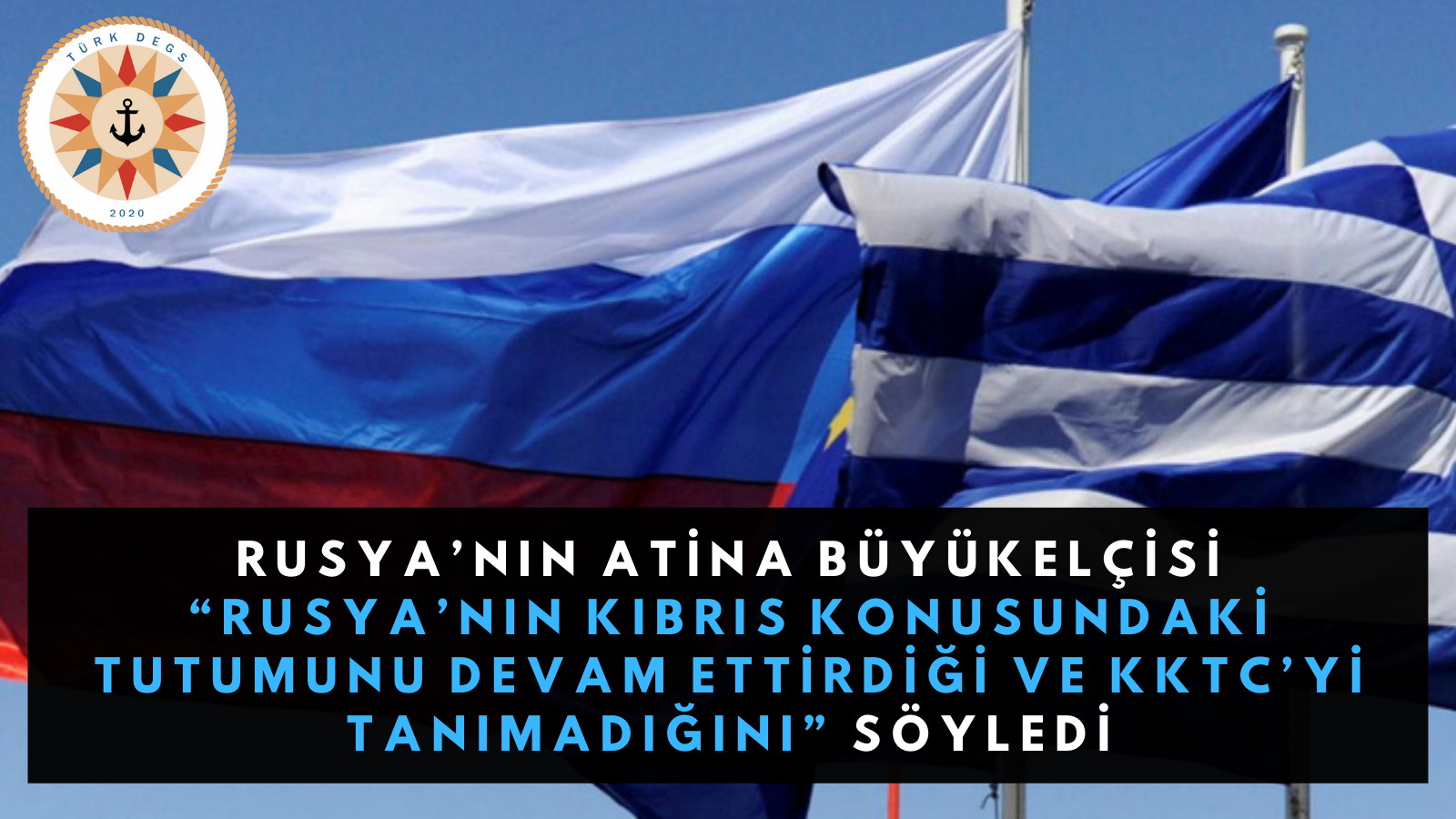 4 March 2022
Foreign Press Report: By Kerem Haser
RUSSIAN AMBASSADOR TO GREECE: "NO CHANGE IN RELATION TO RUSSIA POSITION ON CYPRUS PROBLEM" . . . ARTICLE WRITES: "(AMBASSADOR) STATED THAT RUSSIA DOES NOT RECOGNISE TRNC . . . SIMILAR TO GREECE NOT RECOGNISING KOSOVO"
OT.GR (NEWS): Russia's envoy to Greece on Thursday dismissed widespread speculation in Athens that communication between his embassy and the Greek foreign ministry is at an all-time low, referring instead to "regular, almost daily and very significant" contacts. The statement by Russian Ambassador Andrey Maslov came after uncharacteristically undiplomatic Tweets on the specific embassy's official account, including one post that used threatening and insolent language against local critics in Greece, and all in the wake of the Russian invasion of Ukraine.
"In terms of issues affecting Greece, Maslov said Moscow's position vis-à-vis the Cyprus issue remains unchanged, and is still based on UN Security Council Resolutions. Pressed on the matter, he underlined that Russia does not recognize the so-called "Turkish Republic of Northern Cyprus" pseudo-state, "…similar to Greece not recognizing Kosovo". The question came after Russian FM Sergey Lavrov this past week, in an off-the-cuff manner, used the pseudo-state's preferred name for the Turkish-occupied areas of Cyprus.
https://www.ot.gr/2022/03/03/english-edition/russian-ambassador-to-greece-no-position-change-on-cyprus-issue-denies-attack-on-mariupol-area-greeks
REUTERS/BBC/AFP: WORLD OUTCRY AFTER RUSSIA ATTACKS NUCLEAR PLANT . . .
Russian forces have seized the largest nuclear plant in Europe, Ukrainian authorities say. It comes hours after a fire broke out at the Zaporizhzhia plant following a Russian attack. The fire has since been extinguished, and officials say the site is safe. Western powers have condemned Russia for what they called a "horrific" and "reckless" act.
ISRAEL REASSURES GREEK CYPRIOTS OVER THEIR 'ALLIANCE'
Al-Monitor: Israeli President Isaac Herzog traveled yesterday to Nicosia, trying to reassure his hosts that recent rapprochement with Ankara won't come at the expense of the Israeli-Cypriot-Greek alliance.
At their meeting, Herzog told Anastasiades, "Nothing in my visit [to Turkey] and what would ensue will be on the account of this strategic relationship with your country." Herzog continued that Israel seeks to strengthen its ties and pursue dialogue with all neighboring countries and all faiths, including Turkey that he called "a very important neighbor of ours, which has a huge impact on our lives in many fields. We have to … if possible to lower the tension and move on in a true dialogue that would definitely include issues of climate and the economy," Herzog noted.
https://www.al-monitor.com/originals/2022/03/israeli-president-reassures-cyprus-over-alliance
GREEK CYPRIOT NATIONAL COUNCIL DISCUSSES UKRAINE DEVELOPMENTS, ANASTASIADES INFORMS POLITICAL LEADERS ON CONFIDENCE BUILDING MEASURES PROPOSALS
CYPRUS NEWS AGENCY: National Council discusses Ukraine developments, President informs political leaders on CBM proposals
Developments in Ukraine were discussed on Thursday evening, during a session of the National Council, at the Presidential Palace, chaired by the President of Cyprus Nicos Anastasiades. Members of the top advisory body to the President on the Cyprus issue were also informed on a proposal put forward by the President on Confidence Building Measures.
In statements after the National Council, Government Spokesman Marios Pelekanos said that the session took place in a spirit of unity.
https://www.cna.org.cy/WebNews-en.aspx?a=913c5ffdee36488c8e8afe8ec8965ee4
REUTERS: UKRAINE'S ENVOY CRITICISES TURKISH TOURISM GROUP OVER 'TWO-FACED' APPROACH
Ukraine's ambassador to Turkey urged Ukrainian travel agencies on Thursday not to work with an association of Turkish agencies over what he called its 'two-faced' stance amid Russia's invasion of Ukraine.
Ambassador Vasyl Bodnar said the head of the Turkey Travel Agencies Association (TURSAB) had met separately with him and the Russian ambassador to Ankara on Thursday, slamming what he said amounted to an equating of Ukraine and Russia.
"The TURSAB chairman's meeting with us in the morning and later with the Russian Ambassador is a sign of the two-faced approach. Putting an equal sign between the aggressor Russia and Ukraine, which is defending itself, is tantamount to being an accomplice to the crime," Bodnar said on Twitter.
https://www.reuters.com/world/ukraines-envoy-criticises-turkish-tourism-group-over-two-faced-approach-2022-03-03/
FOREIGN POLICY RESEARCH: TURKEY-ISRAEL RELATIONS LIKELUY TO BE REKINDLED! By Duncan Randall
"Even if Arab players decide to make amends with Turkey, there are no guarantees when it comes to Turkey's temperamental president. As a senior Turkish diplomat told Al-Monitor, speaking on the condition of anonymity: "Turkey's 'good relations' with any Middle Eastern country is like a sandcastle on the beach. Only a matter of time for the next wave to knock it over." Keeping this reality in mind, observers should remain cautious when it comes to Turkey and Israel. With both short- and long-term structural limitations in place, it will take years, if not decades, for the two sides to recreate their bygone alliance of the periphery."
Turkey is now isolated and desperate to mend relationships with key regional players. Tel Aviv, for its part, will be happy to let its new Arab friends take the initiative in normalization with Ankara before it makes any such commitment.
Herzog's upcoming visit to Turkey may seem like a breakthrough in Turkish-Israeli bilateral ties. However, whatever diplomatic gains are to be had—there are rumors that ambassadors may be mutually reappointed—they are likely to be the result of a greater geopolitical game, being played by both Ankara and Tel Aviv. For Erdoğan, mending surface-level ties with Israel simply appears to be the final step in a process of regional rapprochement.
https://www.fpri.org/article/2022/03/turkey-and-israel-a-relationship-unlikely-to-be-fully-rekindled/